With a rise in social platforms, competitors are doing their best to prove their worth. Each developer is headstrong in creating an exclusive yet user-friendly app to absorb the digital market. Here is where Omegle entered the gameplay and proved its mettle within a short span.
Omegle has become the teenager's go-to social networking site to connect with random strangers. However, Omegle uses some acronyms to give its users a time-saving yet catchy experience. Unfortunately, these acronyms can sometimes be tough to understand and ruin your chatting experience.
If you are new to Omegle and want to know the meaning of ASL on Omegle, you are on the right platform. Stay tuned to learn about Omegle and the popular acronym ASL quickly.
What is Omegle?
Omegle is a social networking platform that assists its users in randomly connecting and chatting with strangers. Since it is a global platform, you can connect with anyone from a different country. It qualifies only for a two-person chat room and keeps your conversations anonymous.
Since it is an instant messaging app, it is advised not to exchange your personal information or photos. There is also a feature of video chats through a webcam that allows video conversations to take place.
ASL Meaning on Omegle
ASL on Omegle stands for Age, Sex, and Location in the online chat platform. Since Omegle is a global chatting platform that helps connect strangers across the globe, it helps save time and know the other person better. Usually, people on Omegle prefer being anonymous so asking ASL is pretty common. ASL acts as a conversation starter to understand a stranger's primary and general profile and is used after formal greetings like Hey, Hi, and Hello.
The best part is that the Omegle users are already familiar with this acronym. Though Omegle is not the only platform to start this trend, it has been in use since the era of MSN and Yahoo Messenger.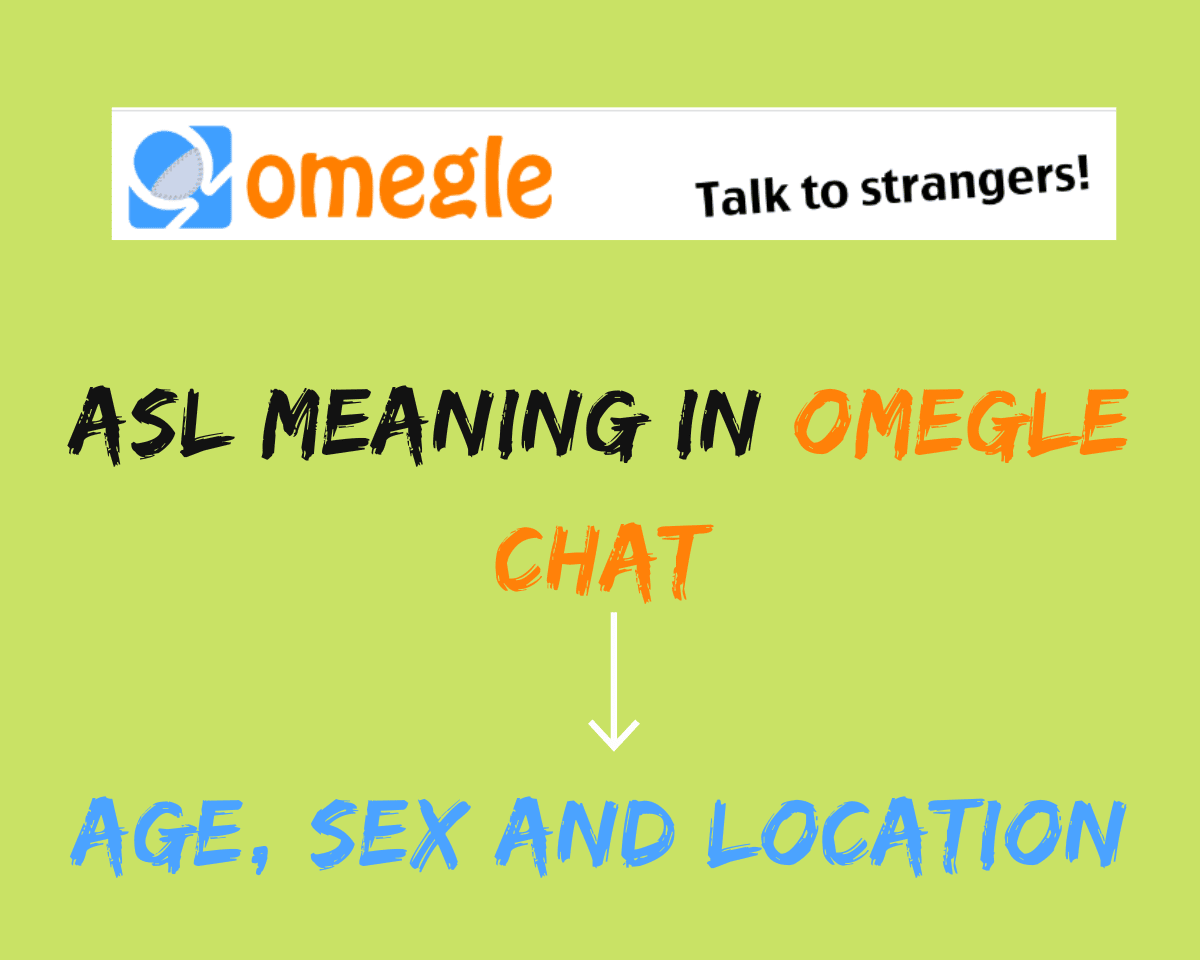 Other Acronyms Used on Omegle
Besides ASL, many other acronyms are commonly used on Omegle while chatting. If you are new to this fantastic chatting platform, you can kickstart your social networking journey through these abbreviations.
Some of the popular abbreviations include:
YOLO: You only live once
NVM: Nevermind
BRB: Be right back
IKR: I know, right
IRL: In real life
OFC: Of course
LOL: Laugh out loud
SMH: Shaking my head
WDYM: What do you mean
ROFL: Rolling on the floor laughing
KTHXBAI: Ok, thanks bye
The list doesn't end here, as new acronyms are constantly updated.
Wrapping Up
Omegle is a chatting platform that has become quite popular among the youths in today's time. It helps connect you with strangers at a click. Unlike the popular social networking sites, Facebook and Instagram, Omegle can be used by users anonymously. Here is where abbreviations can help you crack the deal.
Acronyms can always be user-specific and can be created spontaneously. Everyone cannot know all the acronyms, but we have listed the popular and globally renowned ones. Now, if you were wondering what does ASL mean on Omegle, we hope we successfully cleaned your mind's clutter.
Now since you are already thorough with the essential acronyms, what are you waiting for? Kickstart your Omegle journey seamlessly today.