Do you want to chat online with girls? If you do then you are definitely not the only one who is thinking about it in the first place. Most men these days log in to these random chat sites to meet and chat with strangers and girls from different parts of the world.
Omegle is one of the sites where people often visit to chat with stranger girls and that too anonymously. That is one of the main reasons why it is considered to be one of the most popular sites that people tend to use for online chatting randomly.
Do you think you are also a part of this group of people that log in to Omegle to have random chats with girls? If the answer to that is a yes, then you will surely enjoy the Omegle common Interests feature that the website has in store for you.
How Does Omegle Common Interests Work?
Omegle Interests is one of the most popular features on the website that people use. But there are often questions regarding the working process of these interests. Well, after the person will enter their interests with it is Books or Music or anything else, the data will be matched with different profiles.
As a result, in case there is a match then the profile of the stranger will be displayed right on the profile of the person. Then the person will be able to send and receive different texts and also video chat with the strangers.
For example, say you are interested in football then you will be able to talk with someone who has a similar interest in football. Doesn't that sound absolutely amazing, people? We are pretty sure that it does.
You will also be able to connect the Facebook account of yours with Omegle so that the website can know about your interests from there and then pair you with random people than have similar interests. This is one of the best features that men often tend to use when they have to find girls with similar interest and then have conversations with them anonymously.
Using The Omegle Interests to Find girls
There are some steps that you need to follow in order to use the feature of Omegle Interests to find girls in the best way. Here we are going to mention them right below.
The first thing to do would be to visit the official site of Omegle and then you will get the front page of the website. Somewhere in the middle, there will be a section for adding the interests and you will easily be able to add the things that girls usually like such as chocolates, TV, movies and so much more.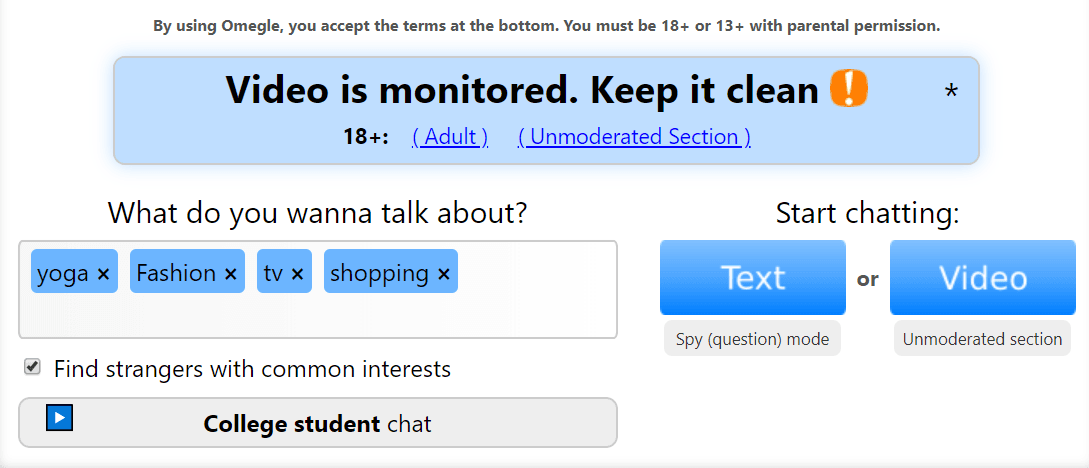 After adding interest, click on the text or video chat button. You will be connected with the person having similar interest on chat.
Best Omegle Interest List to Get Girls
If you are looking for the best Omegle Interests list in order to impress the girls after finding them then you need to make sure that all your interests are the ones that are specific for women such as Dating, Shopping, Yoga, TV, fashion, lesbian, zayn malik, Books, Gossip, travel and so much more.
We hope this article was informative for you.