Are you alone at home feeling bored out of your wits? Well, in that case, would you like to chat with some girls? Don't you think it will be good if you get to share some thoughts of yours with complete strangers? Your interests, your mindset, everything. Don't you think you need a place where you can reveal your thoughts without having to worry about anything?
Well, we have just the right place for you then. Come to Omegle and chat with girls right now. Omegle is one of the best and most popular chat sites. Using webcam and texting options, this site has made it this far.
So, getting back to our point, you do want to talk to some girls, don't you? Well, how are you supposed to do that if you don't know how to find and approach girls on Omegle? This is where we come to help you out.
Tricks to Find Girls On Omegle
Here we are going to mention some of the important steps that you need to follow if you want to chat with girls on Omegle. Make sure that you don't miss out on anything as these tips are really important and useful.
1. Add the Interests on Omegle That You Have
You need to make sure that people get to know what their interests are when it comes to online chatting sites. You can't just have conversations with random strangers without knowing a little bit about them, right? The same goes for you either.
Now while adding the interests on Omegle, one needs to be very careful. With similar interests, there are chances that you will get paired up. So, using terms such as football and other things which show how manly you are will not work. Instead, you could use travelling and yoga as interests. That way you can actually get a match with the woman.
You can also add Facebook to fetch the likes and interests to find people with similar interests.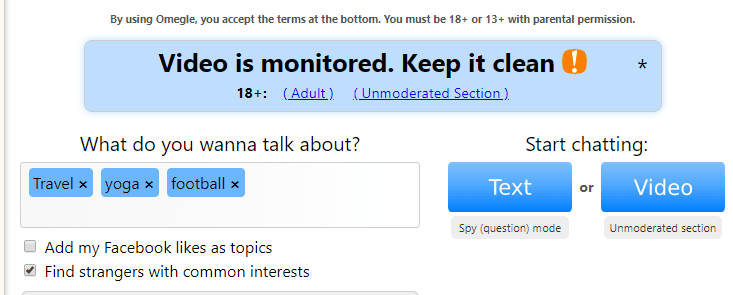 2. Strike Up The Conversation
Well, now that you have put in the interest and you already paired up with someone, it is now time to start the conversation. Now you need to sound normal. Start with a simple greeting and that would be enough.
Even though most people come to Omegle and chat with girls with some ulterior motives, you need to be as polite as possible. Gone are the days when ASL along with the question mark used to work on girls.
3. Verify The Identity Of The Girls
There are many times when you feel an instant connection to someone. Well, in that case, you would want to know the person whom you chatted with. Well, there are some people who just troll others by pretending to be girls. So the first thing that you do would be to catch the guy.
4. Take A Step Forward
There are many cases where people talk with strangers they actually like, only to have Omegle sign them out. Well, you could always ask for their phone numbers or emails, in a polite way. So, it is definitely important to take the step forward.
So, these are some of the ways to find girls on Omegle. Try some of this right now.