Exploring new people and make friends is always a fun and loving experience. Online chatting from ChatRandom gives you this experience for sure. But often you can think that your communication skill is not that good to explore and talk to anyone random.
Here, online chatting will be a real deal. Online chatting is the platform where it does not matter whether you can have a great conversation or you have a good quality to socialize or not. You will be able to experience good talking in the first place and explore.
How Does This Online Chatting Work
ChatRandom is something that many people do not know about. And even if people know it still they do not indulge in this type of stuff. As they feel a little uncomfortable in online chatting with any random people.
If you are interested to do this chatting you would know how this work. You will find that there are several apps or several online chatting sources and with this, you need to sign in. As you will open these apps or sites, you will have to proceed and then you will have to click on the Next button and there, you can start chatting with a person without much drama.
The most interesting thing is that you will not the only one with this circumstance the opposite person will be facing the same sort of things just like you. This socialization not only will give a great experience but you will get to choose with whom you would chat.
You Need To Be Careful
As much as this online chatting is fun, there are some things you must keep in mind. You have to be very careful. Being able to build up a friendship can lead to a great understanding. But while doing all this if you anyway do anything out of their terms and conditions you may get banned from the site.
This is a very unwilling phenomenon that you would not like to happen with you. So, always read the terms and conditions here and act properly.
How To Be Unbanned From ChatRandom
Even after having a proper act or being careful, you can get banned by the site. There can be a misunderstanding or some other stuff. But if you get banned, there are ways to be unbanned too.
1. Send Email to Chatrandom Team
Step 1: Go to their contact us page and write a message to their staffs. They do not get any feedback as they do not have any feedback page or something. All go through their mail.
Step 2: Mail them thoroughly with all your information. How you got banned and why you found that it was not fair to ban you. Give all your IP information.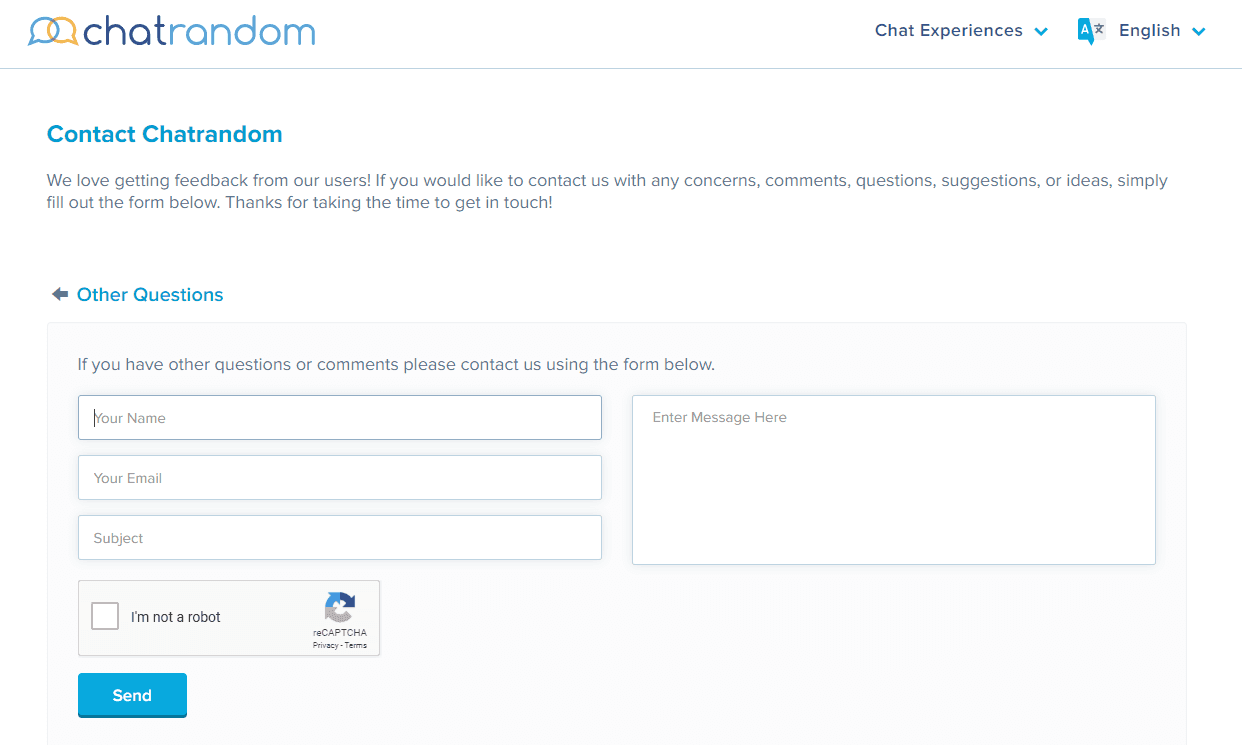 Step 3: After sending the mail, you have to wait patiently. After they see your mail and problems and if they find that it was truly unfair, your IP will be unbanned.
2. Clear Cookies and Cache
Go to your browser history. Now delete all your browser history, cookies & site s data and cache images & files. Then, again try to access the Chatrandom website.
3. Using VPN Services
You can also get unbanned from Chatrandom by installing different VPN services on Mozilla or chrome browser. Some of my favorite VPN extensions are HOLA, Zenmate, and Ultrasurf.
4. Using Proxy Website
If you are banned, then you can access ChatRandom from the different IP addresses using Proxy websites available on the internet. Search proxy websites on google to access any site anonymously.
You must be careful about getting banned. Because it may take much time to get unbanned from ChatRandom. But you there is always a way to get unbanned.