Nowadays, we all are hearing a lot about Omegle, and seeing a lot of roasts, and lovely and funny videos on various applications from the website. It is quite popular among youngsters. Omegle is an online website, not an app, where you can chat with strangers worldwide based on your choice without having to register for it.
It's to pair two people together randomly and they can chat freely and they don't have to mention their names. People refer to each other like you, me, stranger, stranger 1, and stranger 2.
However, for some time Omegle website has had lots of servers unavailable, long connectivity issues, and a lot more due to some unknown reasons.
In this article, we will talk about how to fix technical issues in Omegle when it shows server unreachable or long connection issues. As well as the reason behind the issue.
Why is the Omegle server unreachable?
Let's first tell you about the reasons behind these technical issues. There are many ways that your Omegle server shows that it is down or unreachable. One of the common reasons is that you go in and out very frequently.
Let's understand this situation with the help of an example, suppose you're talking to someone on Omegle and you go offline right after the conversation ends. You logged in to Omegle after a couple of minutes and then after a conversation you logged out. In this situation, the server can show unreachable and out of connectivity because you did not stay online for longer.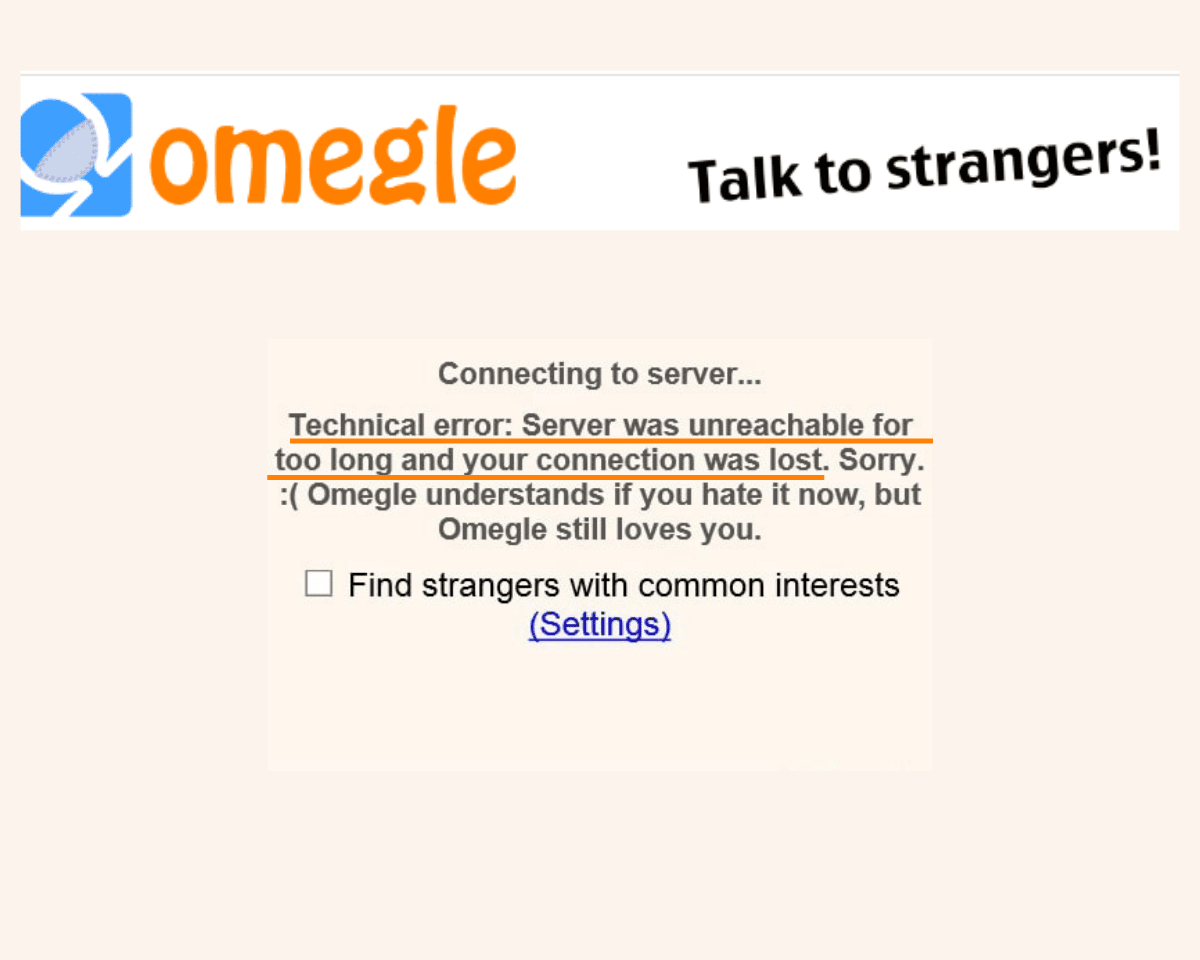 How to Fix Omegle Server Was Unreachable For Too Long Issue?
Now that you know because of frequently leaving the app, you lose connectivity and your Omegle server is down. Let's tell you how you can fix this issue.
The first and most important thing that you need to remember is to never leave the app or turn off your mobile data / Wi-Fi to maintain the connectivity. Even once you turn the data/ Wi-Fi off you will lose connectivity and the server will go unreachable.
Secondly, accept/allow all cookies on the Omegle website. To do this go to Omegle settings and then search for 'Site Settings' and click on 'Allow Cookies' and enter 'Omegle.com' and tap add.
Thirdly, make sure to check and allow you to open your Location, Microphone, and Camera. When you open your location Omegle helps you connect with people according to your location, the microphone is necessary to speak and a camera to make you visible in front of others.
After you follow these three steps your issue will be solved. But if anyhow you didn't seem to get to the end of your issue then there are two applications that you can download. Go to the play store and download these two apps.
1.1.1.1: Faster & Safer Internet:- This application will help you run your Omegle website with a smooth server and no connectivity issues will be there. Download the app and open it to start then you will be able to operate Omegle perfectly. If you don't want to download this app then you can download the second app.
Opera Browser with VPN: You can download Opera which is quite a known application. Install the application and it will solve your problems related to connectivity, glitch, cookie issue, and even the blue face you see on Omegle. Opera will clear the clarity of the video and pictures for you.
Conclusion
So these were the two solutions for the Omegle website. However, nobody can provide surety that these two methods will work 100 percent as people have servers down, unavailability, and connectivity issues because of many reasons. If the server issue is on the end of Omegle itself then it can only be fixed by the website authority. Though you can try these and see if they work for you or not.