Well, you love to do chit chats with your friends, family members, relatives or with anyone across the world at free of cost right?
If you are choosing Omegle then you just got the best choice! Yes, it is one of the best networking websites that offer you to chat online without any cost.
You don't even need to register yourself; it will just connect you with the users by the names like stranger 1 or stranger 2, pretty interesting right? So, your Omegle isn't working? Finding issues in opening your device? Is it showing error while you work with your camera? Don't worry!
Server error fix: Omegle error connecting to server
Different Causes For error with camera requested device not found on Omegle
The main causes of these errors can be of the following.
Change in the Google policy can be one of the reasons. If your Chrome allows to the webcam or microphone use HTTP that Omegle doesn't do, there lies the problem.
The outdated browser can also be one of the reasons.
Your browser contains corrupted cookies.
Camera used by other programs.
No worry! We are only here to fix 'error with camera requested device not found' problem on Omegle. Only you have to do is, just have a look at the following processes and you are all done.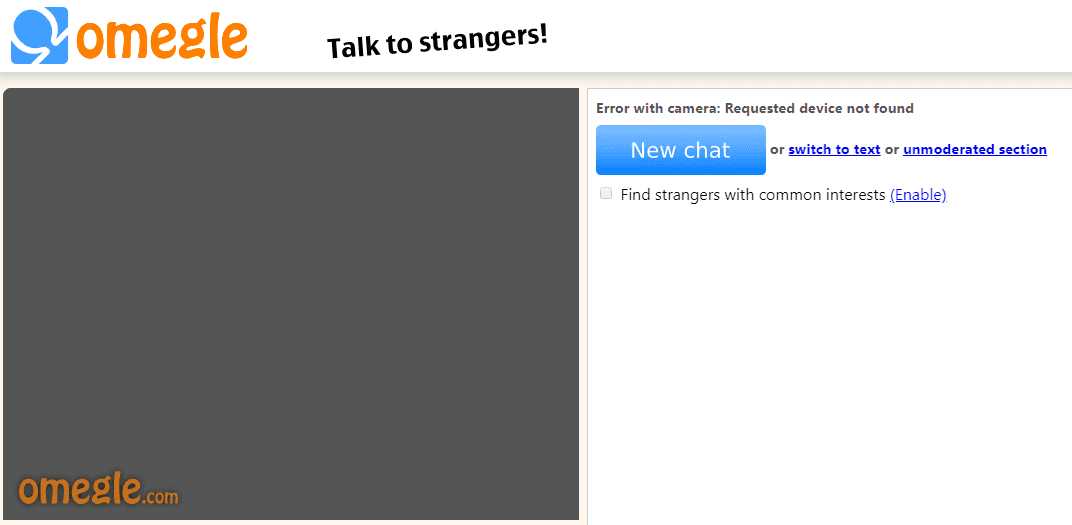 Shut Down The Programs
When your camera is using by any other programs, you would not be able to open the Omegle. So, when you got all the camera permissions are disabled, you can open your Omegle easily.
Update Your Browser To The Latest Version
Whenever you got any notification about new versions are available in the market, just hit the update button. Nowadays, all famous browsers are allowed to support the Omegle.
Clear Your Corrupted Cookies
Your features can be blocked by the browser's cookies that will be the main reason your camera is down. Once you clean the corrupted files you are free to use your device. But the cleaning process may vary from one application to another.
If you are facing an error on video, then read the article on how to fix omegle video camera not working problem.