Omegle is a website that allows chatting and video chat with random people from all over the world. It pairs two strangers in a one-on-one chat session that can be from anywhere in the world. This website doesn't require any account or registration. Omegle was created to meet new people and make new friends.
It provides you to add your interests so that it can pair you up with people of the same interests. But only people above 18 plus or more can use this as the chats are being monitored. You can start or end the conversation at any point if you want. For people who like fun chats or anonymously meeting new people and spreading friend circles, Omegle is for them.
Omegle was founded by Leif K-Brooks in Brattleboro, Vermont, when he was an 18 years old boy. It is popular in the UK, US, India, and Mexico. As this website has not clearly mentioned the age limit, the younger people can use it from above 13 and under 18 with parental observation.
People can talk about different topics, share feelings, know new things, get in contact with other country's people, know new cultures, and many more on this website. Today we are going to highlight some topics that are best to talk about in Omegle.
Best Topics to Talk About in Omegle
Omegle people use for discussing subjects that they seem interested in and find more informative. If you want to talk with girls on Omegle and keep them engaged with the conversation, you need to choose more general topics. Here are some topics that you'll like to discuss on Omegle.
Justin Bieber
Movies
Music
BTS
Art
Jungkook
Ariana Grande
Hobbies
Schooling
Makeup
Basically, it depends on the interest you put in and whoever starts it with the same knowledge. Omegle provides you to share the most relevant and general topics, or people will skip the chat. Girls are lesser users of Omegle than boys. That's why whoever used Omegle before knows it is hard to find girls here, and there are few chances.
Apart from this, if you are finding women between 25 to 35, you have to pick more mature topics that grab their interests. Here we are mentioning some.
Male
Guys
Asian
Good
Mature
Fitness
African
Women
Age
The Breakfast Club
Erasmus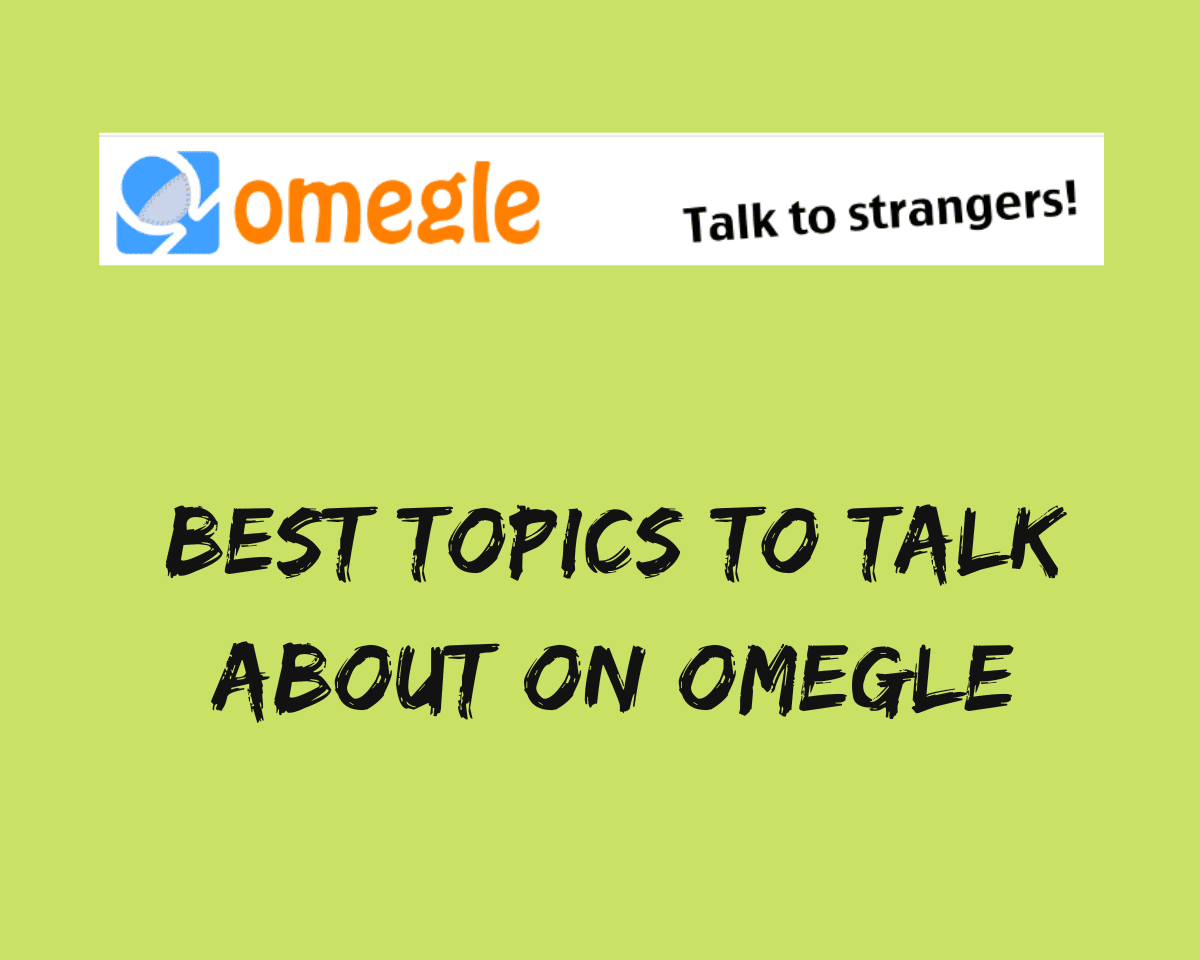 As it shows always American girls are more cool and friendly to get into a conversation with. To find American girls on Omegle, you can put these topics as your interests. We are mentioning them below.
Facebook
Tiktok
Reels
Tinder
Youtube
Instagram
Beach
Self Love
Alone
iPhone
Netflix
If you're a meme lover and you are interested in funny conversation, these may help you find people with the same interests.
Anime
Meme
Funny memes
Funny
Humorous
Mr. Bean
Kevin Heart
Cartoon
Jokes
Comedy
Humor
Conclusion
Omegle is a type of website that offers the platform to share any topic you want. Mostly, young people use it. Some people find Omegle a practical way to interact with new people and get to know strangers. But, this can be dangerous, where you don't know whether the other person is a real or a robot.
Sometimes, people may misunderstand by guessing you as a bot, but you can keep finding the right person to start a real and long conversation. Though it is tough to find a genuinely interested girl to chat with on Omegle, we believe these topics we mentioned above will help you real quick.